When it comes to your health and well-being, the choice of a physical therapist can be a critical decision. Whether you're recovering from an injury, managing a chronic condition, or seeking to improve your overall fitness, finding the right physical therapist is essential for your success. In this comprehensive guide, we will explore the key factors you should consider to choose the perfect physical therapist to meet your specific needs.
Why Is Choosing the Right Physical Therapist Important?
Physical therapy plays a vital role in improving and maintaining our physical health. A skilled physical therapist can help you recover from injuries, reduce pain, and enhance your mobility and strength. Whether you're an athlete looking to regain your peak performance or an individual managing the challenges of aging, a well-qualified physical therapist can make a significant difference in your life.
Here are some key reasons why choosing the right physical therapist is crucial:
Personalized Care
Every individual's body is unique, and their needs differ. A competent physical therapist will assess your specific condition and design a personalized treatment plan tailored to your needs. This personalized approach ensures that you receive the most effective care possible.
Expertise and Experience
An experienced physical therapist brings a wealth of knowledge and expertise to the table. They understand the intricacies of the human body and know how to address various physical issues effectively. Their experience can make the difference between a successful recovery and ongoing discomfort.
Improved Quality of Life
Choosing the right physical therapist can lead to a higher quality of life. Whether you're recovering from surgery or managing a chronic condition, the guidance and support of a skilled therapist can help you regain independence and achieve your goals.
How to Choose the Right Physical Therapist
Now that we understand the importance of choosing the right physical therapist, let's dive into the steps you can take to make an informed decision:
1. Credentials and Certification
The first step is to ensure that the physical therapist is licensed and certified. In the United States, for example, physical therapists must pass the National Physical Therapy Exam (NPTE) and obtain a state license to practice. Check for these credentials and certifications to verify their qualifications.
2. Specialization
Different physical therapists may specialize in various areas, such as sports injuries, orthopedics, geriatrics, or pediatric care. Choose a therapist whose specialization aligns with your specific needs. Their expertise will be more relevant to your condition.
3. Recommendations
Ask for recommendations from friends, family, or your primary care physician. Word-of-mouth referrals can be valuable in finding a trusted physical therapist. Additionally, check online reviews and testimonials to gather more insights into a therapist's reputation.
4. Interview Potential Therapists
Don't hesitate to interview potential therapists. This step is essential to assess their communication style, treatment approach, and overall compatibility with your goals. During the interview, discuss your condition and expectations to see if you feel comfortable and confident with the therapist.
5. Location and Convenience
Consider the location of the physical therapy clinic. It's important to choose a clinic that is convenient for you to access, especially if you require regular sessions. Accessibility will encourage you to stick to your treatment plan.
6. Insurance Coverage
Check whether the therapist is covered by your health insurance. Working with an in-network provider can significantly reduce your out-of-pocket expenses. Verify the coverage details and co-pays associated with your insurance plan.
7. Transparent Communication
Open and clear communication with your physical therapist is crucial for your progress. Ensure that the therapist is willing to explain your condition, treatment plan, and progress in a way that you can understand. A transparent approach fosters trust and ensures you are actively involved in your recovery.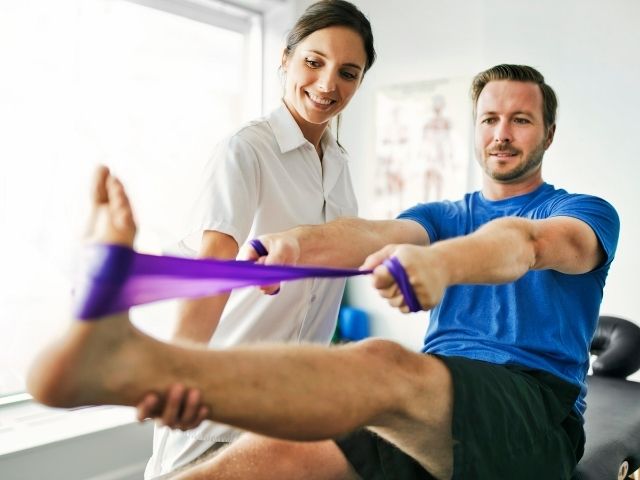 The Benefits of Choosing the Right Physical Therapist
Selecting the right physical therapist can lead to numerous benefits:
Faster Recovery
A well-qualified therapist will develop a comprehensive treatment plan that maximizes your chances of a swift recovery. They will guide you through exercises, techniques, and strategies to accelerate your healing process.
Reduced Pain
Effective physical therapy can significantly reduce pain and discomfort, enhancing your overall well-being. Whether you're dealing with chronic pain or recovering from surgery, a skilled therapist can help you manage and alleviate your pain.
Improved Mobility and Function
Physical therapists are experts in improving mobility and function. They can help you regain your range of motion, balance, and strength, ensuring that you can perform daily activities with ease.
Preventing Future Injuries
A good physical therapist not only helps with current issues but also equips you with the knowledge and tools to prevent future injuries. They will educate you on proper body mechanics and exercises to stay healthy in the long run.
Long-Term Health
Choosing the right physical therapist is an investment in your long-term health and well-being. They can help you achieve your fitness goals, maintain an active lifestyle, and enjoy a better quality of life.
In Conclusion
Choosing the right physical therapist is a significant decision that can impact your health and quality of life. By considering factors such as credentials, specialization, recommendations, and communication, you can make an informed choice that best suits your needs. Remember that your journey to recovery and improved well-being starts with the right physical therapist by your side. If you are interested in learning more about choosing the right physical therapist, you can try this out for further info.